What are "Fresh Funds"?
"Fresh Funds" is the title of our rewards program offered through Instacart for meeting with a Foodsmart Dietitian. They can be used to purchase select healthy food items in Instacart on our unique landing page, called the Instacart marketplace.
What is Instacart?
Shop from your favorite national and regional grocery stores with your computer or mobile device. Schedule delivery for as fast as an hour, or for later in the day or week to fit your schedule. Meet your shopper at your door to get your groceries. The Instacart platform also offers a pickup option. You simply shop Instacart's website or app, select a pickup time, then pick up your groceries at the store.
What is the Instacart Marketplace?
It is Foodsmart's shopping portal that brings you healthy choices to easily select from. It o
perates just like Instacart, but with healthy food choices at the forefront.
What is required to use Fresh Funds?
To redeem Fresh Funds, you must have:
An account on Instacart.com (click here to create an account)

A debit, credit, or an Instacart gift card on file in your Instacart account
NOTE that you "may be required to add a secondary payment method to use Fresh Funds" per FAQ page
When do you receive your Fresh Funds?
Fresh funds are sent a couple of days after you complete your telenutrition appointment.
How do you receive your Fresh Funds?
Fresh Funds are provided via a link sent in an email and text message. This is based on what information you have listed in your chart.

Text Message Content:

You will receive a link via text from 650-866-1572 with the reward. The text message clearly states that Foodsmart is the sender and the purpose of the message.

Android users: make sure to check your spam inbox, if you do not see the SMS
EmaiI Content:

You will receive an email from <delicious@foodsmart.com>

Email subject line for $50 (1st visit): "You earned $50 in grocery money from Foodsmart" (County Care Health and Chorus Community Health Plan patients only)

Email subject line for $25 (follow-up): "You earned $25 in grocery money from Foodsmart" (Chorus Community Health Plan patients only)

Email subject line for $25 (1st visit): "You earned $25 in grocery money from Foodsmart" (Banner Health patients only)

Email subject line for $15 (follow-up): "You earned $15 in grocery money from Foodsmart" (Count Care Health and Banner Health patients only)
Note: Make sure to check your Social and Spam folders within your email inbox as these emails can sometimes end up there.
How do you redeem your Fresh Funds?
Clink the link you received from the email delicious@foodsmart.com or the link sent via text message that comes from 650-866-1572. After clicking on the link, follow the steps listed on the screen.

After claiming all of your codes, they will show up on the checkout page with the balance you can use.
Note: Fresh Fund codes can only be claimed by following the above steps. You cannot put the Fresh Fund codes in the promo code box at checkout.

Video tutorial --> HERE
Where can I see the Fresh Fund codes I have redeemed so far?
2. Scroll down until you see Instacart+ and gift card credits and click on View credit history.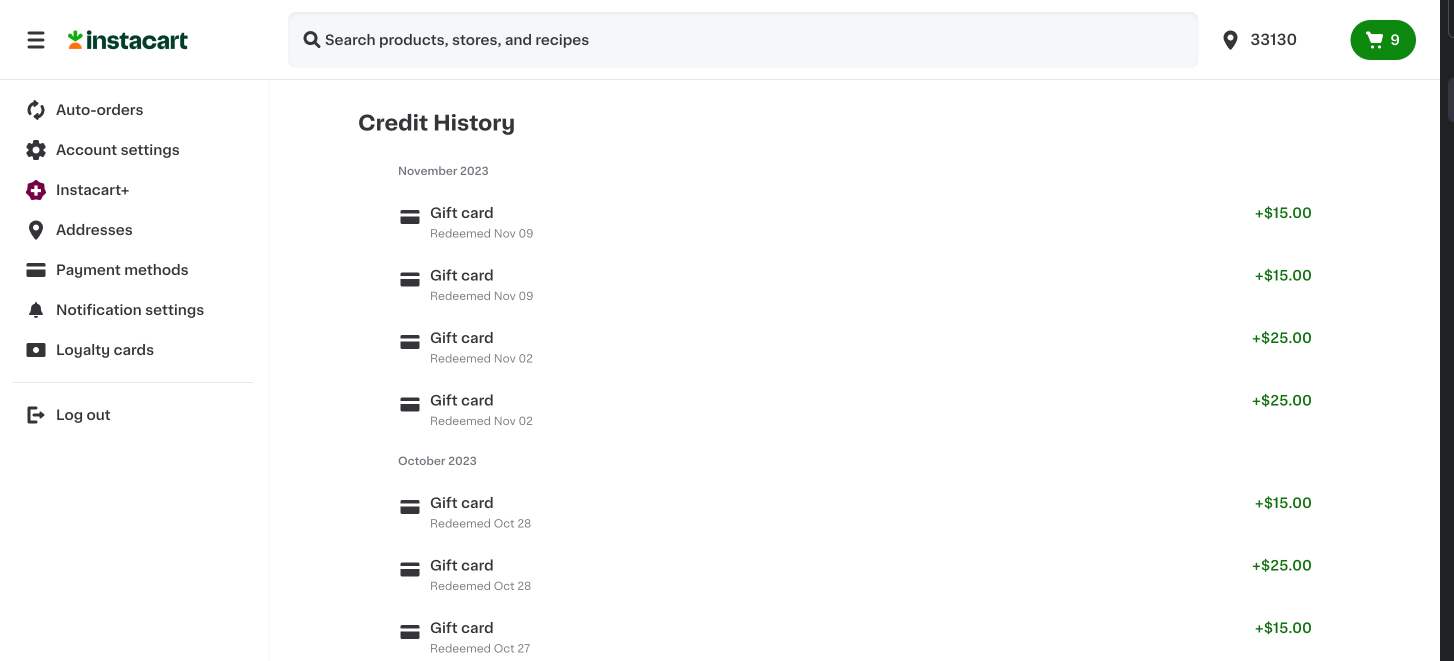 What if I never receive my Fresh Funds?
If you have not received your Fresh Funds, please make sure to check all of your text messages and your email's Social and Spam folders for any email coming from delicious@foodsmart.com. If after following these steps you are still not seeing your Fresh Funds, please reach out to our support team at support@foodsmart.com.
What if I am unable to receive text messages or emails?
If you are unable to receive text messages or emails, please speak with your dietitian about other options.
What can you buy with FreshFunds?
You can use FreshFunds to purchase healthy food options from Instacart or toward your order delivery/fees. "Healthy food choices" are foods that we have deemed as healthy on Instacart's page but excludes desserts, soda, and sugary snacks. It also includes most household essentials and personal care items. All other items not listed can be purchased with your own money, SNAP, etc. You can also save up your incentives to purchase an Instacart+ membership.

How do you know if a food item is eligible for FreshFunds?
Most items will say "FreshFunds eligible" near the name of the product/item. However, some things will be eligible even without the notation.

What if I don't have another form of payment? Will my credit/debit card be charged?
Instacart requires that you have a debit, credit, or Instacart gift card in order to make an order and use your FreshFunds.
How will I be able to select my Fresh Funds towards my purchase?
You will be able to select your Fresh Funds as a way to pay for your order during the check out process. Once you reach the "Pay with" section within the check out page, you can click on "Apply up to $xx.xx Instacart credit"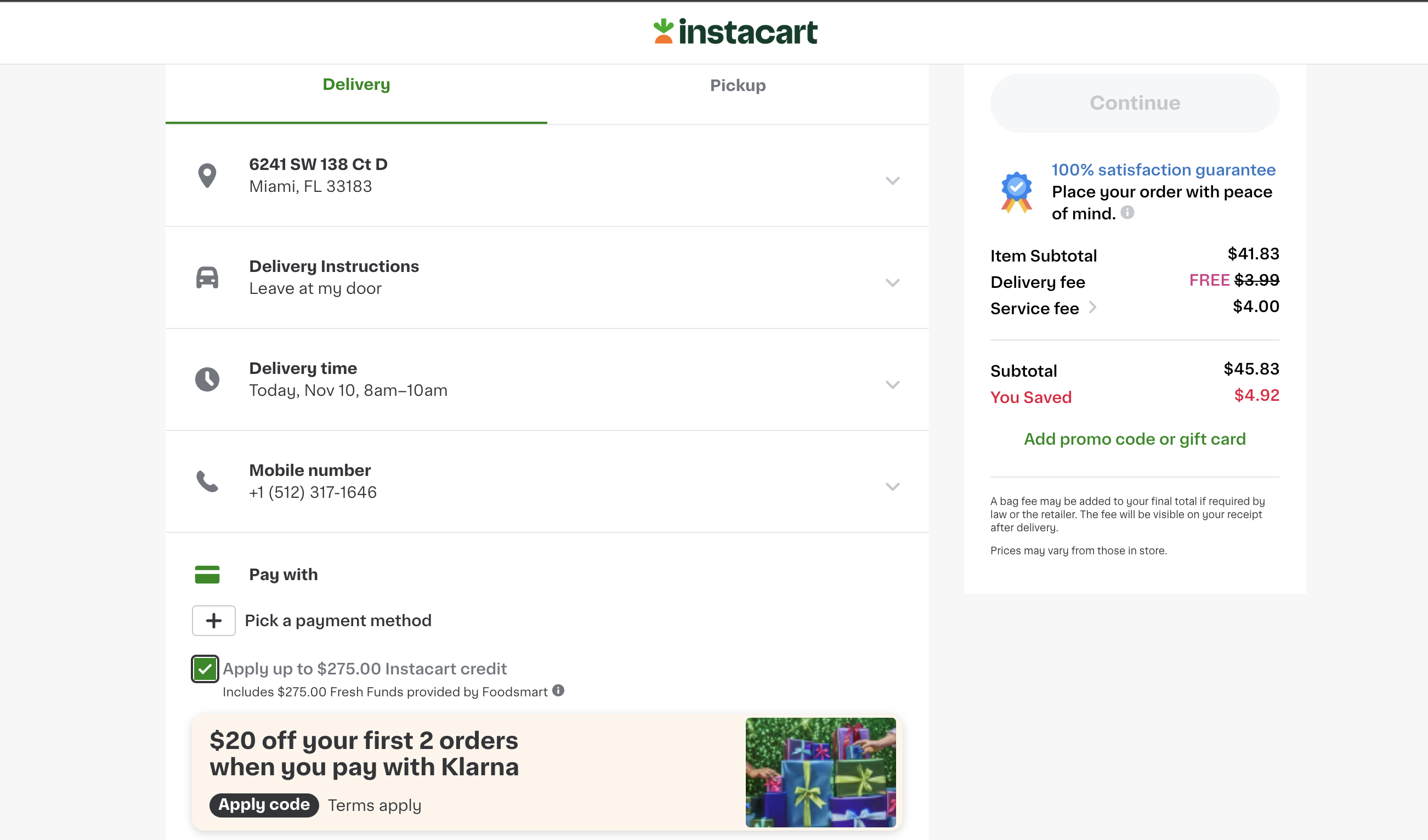 Can I use my EBT card to pay for my order?
Customers can pay for online orders with a valid EBT card, in full or in part. You can use your EBT card at any participating store, as long as the state that issued your EBT card is currently participating in the SNAP Online Purchasing Pilot. Currently, Instacart does not accept EBT cash.
For more information on how to add your EBT card as a form of payment please visit this article.
How are healthy items "determined"?
"Healthy food choices" are predetermined. Excluded items may include - paper products, cleaning products, other non-grocery items, certain sweets/candies, certain chips/snack packs/etc., and more. Additionally, some stores "participate" more than others, but we are pushing for improvements!
How do I receive my groceries once I place a delivery order?
After the items in your order have been picked and packed, a personal shopper will start the delivery process. In some cases, the person who shops your order may not be the one who delivers it.
To make sure you get your delivery as scheduled, we recommend—
Turning on notifications for the Instacart app
Keeping an eye out for text messages and phone calls from the delivery driver
Leaving helpful instructions for parking, gate codes, or other clues to find your home.
How do I receive my groceries once I place a pick up order?
Instacart Pickup gives you the option to order online, set a pickup time, and collect your order at the store. Here's how it works—
When your order is ready for pickup, you'll get a text message or notification on your phone, along with pickup instructions.

When you get to the store, follow the instructions to let us know you've arrived.

Depending on the store, you'll either pick up your order inside or wait while we bring your order out to your car.
Retailers who offer pickup will have Pickup under their name on the homepage of your account. To find the nearest pickup location—
Select the retailer from which you'd like to place your order

If the retailer offers both delivery and pickup, select Pickup

Choose your preferred pickup location on the map
Once you've selected your location, you can start shopping for your items!
Note: Pick up orders from certain retailers have a "pickup fee" (equivalent to a delivery fee for pickup orders).
Do FreshFunds expire?
You have 4-6 months from the time you receive your Fresh Fund codes to claim it and use it!
How many incentives can I use at one time? Can I "stack" or save incentives?
Fresh Funds can be saved/stored up and used towards larger purchases if the incentives
have the same value
.
Example: If you have a $15 reward and a $25 reward, you may not use them together - we are working with Instacart to enable this in the future. You can, however, use multiple $25 rewards or multiple $15 rewards together.
We highly encourage you to redeem and use codes of one denomination before adding codes of another denomination. This practice will help minimize potential issues and ensure a smoother experience.
What about delivery fees, service fees, taxes, etc.?
Fresh Funds can be used toward delivery, tax, and some service fees in an order. If there is enough remaining on the Fresh Funds credit, it will automatically apply toward those expenses.
I am still being charged service fees - I thought FreshFunds covered that?
According to Instacart, the "service fee" helps support the Instacart platform and covers a broad range of operating costs including insurance, background checks, and customer support. Instacart+ members enjoy a reduced service fee. Service fees vary and are subject to change based on factors like location and the number and types of items in your cart. You can view the service fee total on every order at checkout. Orders containing alcohol have a separate service fee.
Changes to your order, including replacing or refunding an item, change the service fee. After the order is complete, you'll see the final cost and service fee total on your digital receipt. For more information about order changes, visit this article. Instacart pickup orders have no service fees, regardless of non-Instacart+ or Instacart+ membership. Shopper tips are separate from any service fees.
Why is my final total different from the total at checkout?
When you place an order, we show you the anticipated total, including estimated taxes and fees. We also add a temporary buffer to anticipate you or the shopper making changes to your order, even after you placed it. The final total charged to your card may be different if any changes occur during the shopping process, such as—
An item is out of stock and you're refunded
You add an item to your order after checkout
An item you order needs to be replaced, and the replacement has a different price
An item you order is sold by weight and the exact weight is slightly different
Instacart how-to videos:
Instacart has a 100% satisfaction guarantee and suggested that members contact Instacart to get credited for inappropriate charges. This can be done via 3 clicks using the

https://www.instacart.com/help

link or by calling the helpline 1-844-981-3433.